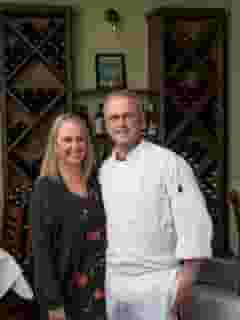 About Us
John and Nikki Ramagli opened the doors to J Wine Bistro in October 2016. Nikki was born and raised in Sedona. She is a part of the fabric of the community, the backbone of the business side of the restaurants, and a successful Sedona Real Estate Agent. Their personal drive, strong work ethic, and Nikki's connection to the area made Sedona the natural place for the two of them to build their dreams and raise their two children, Charlie and Emma.

John is from Bucks County Pennsylvania where he began his career in food and beverage at the young age of sixteen. Like most sixteen-year-olds, the need to drive is what drove him to his first job. John landed his first job serving dinner to the elderly at an assisted living facility in Westchester Pennsylvania. He was blessed with a militant manager who drilled the basics of the food and beverage industry into his distracted teenage mind. After two years he had acquired what would prove to be a solid foundation on which he built his successful career in the food and beverage industry. He understood the definition of the word WORK, and he had earned his stripes. 

John has worked in the food and beverage industry for over twenty-five years and has held the title of Beverage Manager, Food and Beverage Director, General Manager, Sous Chef, and Executive Chef, in fine establishments such as Cafe Monarch and Marcellino Ristorante.

John and Nikki also own Rotten Johnny's Wood Fired Pizza Pie located adjacent to J Wine Bistro. They both live with the philosophy that you work hard, play hard, and family always comes first. Life is about experiences and balance, just like the meals they serve at J Wine Bistro.